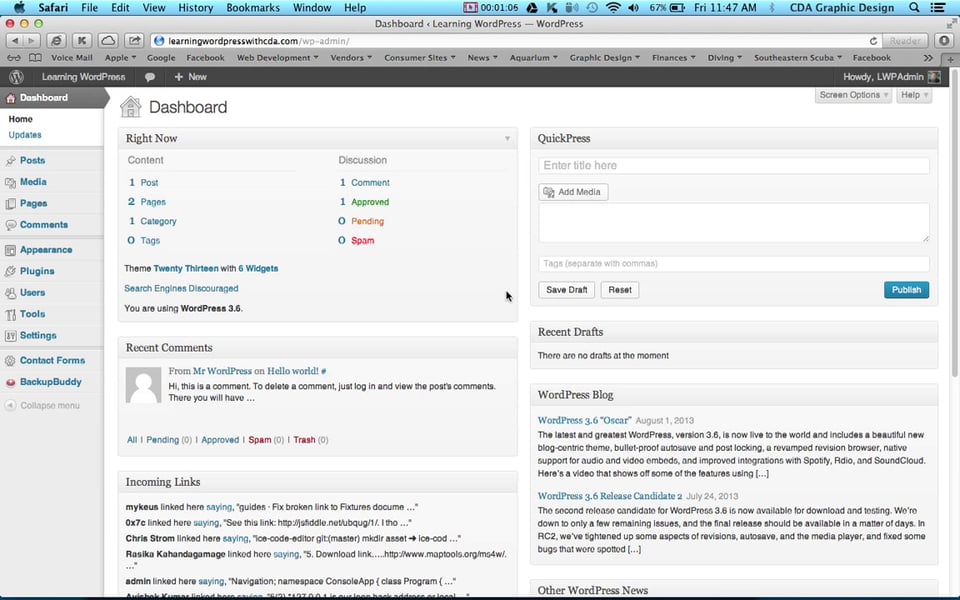 WordPress is great not least of all because it allows designers to make beautiful websites and then turn them over to clients for content creation. To put it bluntly, you no longer have to pay designer rates to update your website! Great, huh?
If you're not familiar with web-based applications and ideas, however, it can be a little bit scary when you get started. This is a step by step tutorial to introduce you to WordPress, and get started managing your own content.
Front door and back door — the Dashboard
WordPress has a wonderful way of displaying content. The front-end is what every regular visitor to your site sees. The back-end is what you, as a content-creator, can see.
Got that? Same information, just displayed differently.
Some sites that are membership sites may also allow members to see a limited view of the back-end, but let's not get ahead of ourselves.
Finding the back door
Like many nice homes, the back door on a WordPress site can be hidden. Your website may have specific log in instructions, for security or other reasons, but the general way is actually pretty easy, too.
Point your web browser to your web site.
Add the following text in the address bar after the domain extension: /wp-admin/
(i.e. http://www.mywebsite.com/wp-admin/)
Click the enter key on your keyboard.
Your browser will redirect to the WordPress Dashboard.
Couldn't be easier, right? Check out the next installment of WordPress for Clients to find out where to go from here.