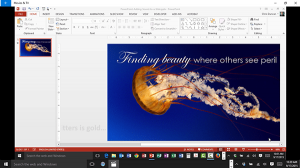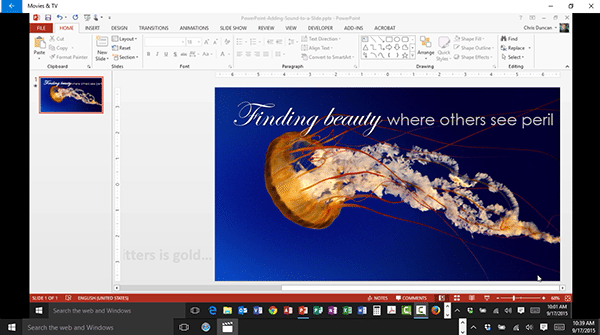 PowerPoint has plenty of built-in sound effects that people use when they are creating presentations. It's a shame, but many people think that those burps, bleeps, drumrolls and thunderclaps are all they can use.
A high-quality presentation, however, will often have background music playing on an opening slide while the audience comes in and chooses a seat. The good news is that it's easier to create this effect than you might think!
If you need a source for free audio files, check out my recent post Where to get free images, videos and sounds for your PowerPoint presentation. For this exercise, I downloaded a track called Running Waters from Jason Shaw's Audionautix website.
Adding Sound to a PowerPoint Slide
The process of adding sounds is pretty simple, and while we're at it we'll make certain the recording loops in case you get delayed starting the show.
Go to the Slide where you want to add the sound file.
Click the Insert tab.
Click the Audio dropdown in the Media group.
Choose Audio on my PC.
Navigate to where you have saved the file.
Double-click the file to Insert it.
The result of adding the Sound file to the slide is that you now have a playback bar, the sound icon, and two new tabs in the Ribbon: Audio Tools Format and Audio Tools Playback. To finish the exercise, let's clean things up a bit.
Be certain you have selected the audio object by clicking on it.
Click the Audio Tools Playback tab.
Click the Start dropdown in the Audio Options group and choose Automatically from the dropdown.
Click to place a checkmark beside Loop until Stopped in the Audio Options group.
Click to place a checkmark beside Hide During Show in the Audio Options group.
Go to the Animations tab.
Click the Animation Timing dropdown in the Timing group.
Choose With Previous from the dropdown.
Giving credit where it is due…
Although the music is licensed under the Creative Commons license, I like to always give credit. Mr. Shaw's website does request that you provide a link to his website or an on-screen credit "music by audionautix.com." Here are the steps to add a quick on-screen credit.
Click the Insert tab.
Click the Text Box button in the Text group.
Draw a small rectangle in the bottom-right corner of the screen.
Type the text "Music by Audionautix.com"
Select the text.
Click the Home tab if necessary.
Click the Font Size dropdown in the Font group, and choose 12 from the menu.